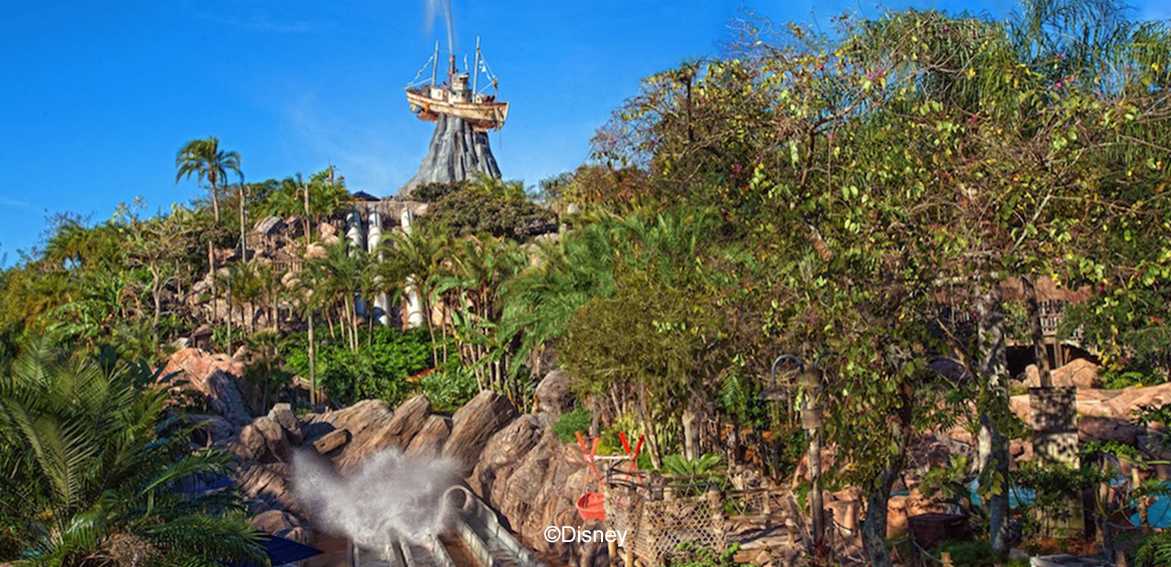 According to legend, a typhoon of epic proportion, quite by surprise, swept through Florida. In the mayhem of the cyclone, surfboards were hurled about, fishing boats ran aground, and fishing nets were strewn helter skelter.
Miss Tilly, the ill-fated commercial shrimp boat, rested haplessly impaled upon Mount Mayday during the storm. Each half hour, the Mount erupts releasing her geyser 50-ft in the air causing Miss Tilly's whistle to blows as she attempts to dislodge her heavy burden.
In the wake of this freak storm, obstacles were carved out of the landscape including river creeks, large surf pools, down-hill water slides, water falls, storm slides, and sandy-white beaches. As the sun rose on that unforgettable day, Lagoona Gator could be seen gleefully sliding down Mayday Falls shooting Weeee maing a big splash at the bottom.
TYPHOON LAGOON ATTRACTIONS
Crush 'n Gusher
Brave the white-knuckle thrill ride as gushing water jets propel you through 400-feet of hairpin turns.
Castaway Creek
Lay back as this winding creek takes guests of all ages for a relaxing ride around the water park.
Surf Pool
Surfs up at the world's largest wave pool where you can catch the big wave for a bodysurfing ride all the way to the beach.
Ketchakiddee Creek
Preschoolers with love to romp around this water park filled with small scale slides, fun fountains, slippery seals, crawl tubes and much more.
Gang Plank Falls
Hop aboard with the whole family as you whoosh down a 300-ft water-slide. Watch for special effects on your way twisting down the mountain.
Humunga Kowabunga
Take the plunge down a nearly 5-story high-speed vertical water-slide as you race against your opponent inside a 214-foot enclosed speed slide.
Shark Reef
Be captivated as you immerse yourself in this underwater world filled with bonnethead sharks, stingrays, and schools of tropical fish.
Keelhaul Falls
Jump aboard your inner-tube for a whitewater adventure down Mount Mayday through a course filled with twists, caverns and waterfalls culminating into a big splash.
Mayday Falls
Climb aboard one of the longest inner tube rides down Mayday Falls for a twisting, curvy, fastest most turbulent ride that begins at the stranded shrimp boat Miss Tilly.
Sandy White Beach
Take a break, kick off your shoes, and recline in a lazy hammock while you drift away under the magnificent palms in this tropical paradise fashioned in sugar-white sand, scenic azure water-ways, and a pleasant picturesque landscape.
Storm Slides
After you climb Mount Mayday, take a plunge down the 3 wild body storm slides that will zip you down a 3-story drop filled with caves, watersfalls and geysers.