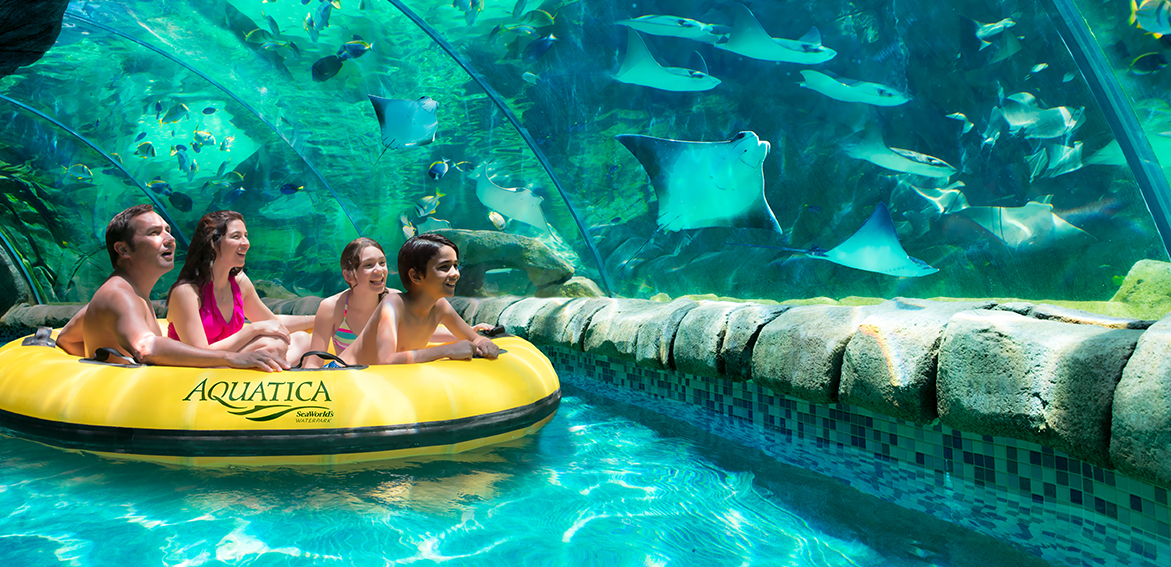 Dubbed as SeaWorld's whimsical water-park, Aquatica is a uniquely fun-filled experience for the entire family. From little squirts to families with teens, Aquatica offers a full day of adventure for the entire family.
Aquatica's 14 drenching-wet rides, and 2 animal habitats create unlimited possibilities for a thrilling experience. At Aquatica thrill-seekers will experience one-of-a-kind rides including Cutback Cover, Omaka Rocka Whanau Ride Dolphin Plunge, Tassie's Twister, Roo's Rapids, Taumata Racer, Walahall Wave and HooRoo Run.
Replenish your energy with a quick bite to eat at Aquatica's fast food restaurants  including Banana Beach Cookout, Mango Market, and Waterstone Grill.
FAMILIES WITH LITTLE SQUIRTS
Big Surf Shores
Kids will enjoy the gigantic side-by-side waver pools where the action keeps coming and the waves are just perfect.
Cutback Cove
Kids will just love riding the surf generated by Aquatica's world-class wave pool.
Tassie's Twisters
Afer Climbing to the top of the tower, lightning-fast tubes spin, and shoot you into a giant soaking-wet bowl of water.
Kata's Kookaburra Cove
At Kata's Kookaburra Cove, little squirts can immerse themselves in this amazing tropical paradise.
Loggerhead Lane
Enjoy this lazy raft ride that meanders through an amazing tropical fish habitat.
Walkabout Waters
Perfect for youngsters, Walkabout Waters features an unimaginable drenching-wet obstacle course.
Omaka Rocka
Jump on the all-new Omaka Rocka ride as you glide down speed tubes into half pipe flumes
Walhalla Wave
Enjoy this family adventure, zooming down 6-story amazing turns and twists
Taumata Racer
Compete against other challengers in a competitive mat-ride down a steep hill
Roa's Rapids
Prepare for an amazing quest through the white-water rapids at Roa's Rapids
HooRoo Run
Ride with the family down a 6-story maze of turns, twists and tunnels
Whanau Ride
Jump aboard a zany tube-ride with othes for the surprise of your life filled with turns, twists and tunnels
Dolphin Plunge
Take a plunge into the habitat of the playful Commerson Dolphin
Banana Beach Cookout
Indulge in all-you-care-to-eat buffet with unlimited visits all day long.
Mango Market
Snack lovers will enjoy a variety of pizza, chicken tenders, french fries,  sandwiches, salads, desserts  and ice cream.
Waterstone Grill
Choose from tasty sandwiches to juicy hamburgers, specialty wraps to salads.
Fish Grotto Aquarium
Explore this aquarium for hundreds of species and thousands of exotic fish swimming.
Commerson's Dolphin Exhibit
The stars of Aquatica, see these high-energy dolphins in their own habitat, racing, playing, and showing off their skills.