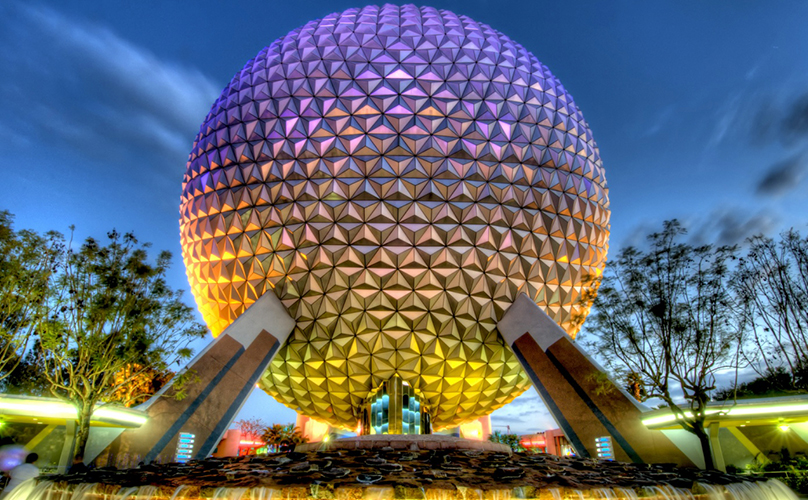 Epcot is stands for "Experimental Prototype Community of Tomorrow;" which was originally Walt Disney's plans for the theme park. The theme parks purpose was to build a community that was perfect, Walt Disney was going to create the modern day Utopia. However upon his death and legal restrictions the theme park was redesigned to support the "Community of Tomorrow," by other means.
Epcot has ventured around the world to bring you the newest technology and the most creative rides. From agricultural science experiments to artificial digital environments (i.e. Video Games) Epcot has striven to bring guests face to face with the future. This area is often a prime attraction for field trips and school visitations, however Epcot holds its place under the Disney World Theme parks as a primary source of fun!
While Epcot is the most educational theme park in the Walt Disney World Resort the school room feeling has evaporated completely. With fun rides and detailed interactive demonstrations the park is a prime source for entertainment. Epcot hosts seasonal events such as Epcot's flower and garden festival that brings unique and exotic plants from all around the world and decorate the park. While these events don't disturb the original content of the theme park; there is always a moment of aw when you first glimpse upon the fourteen foot tall Mickey and Minnie Mouse flower statues.
Epcot is divided into two zones, one housing a unique set of rides and entertainment as well as the "Future technology and world advancements;" this area is called the Future World Pavilions. The other is the World Showcase, which is a concept Epcot has come up with that has never been done before. In the World Showcase you will be able to walk around a large lake, stopping by different locations, each dedicated to a specific country. Each location hosts a gift shop and restaurant, and some even have rides. Walk in to learn interesting facts and find show times for each countries display of their arts and skills during the day!
Mission Space: Mission space is one of Epcot's primary attractions. With its unique ride design you will get to experience the exact same feelings of an actual Space Shuttle take off and space mission, with the danger. Here you work in a team with three others attempting to land on Mars. You control the ship and command your crew members for a daring take off and landing, can you manage to keep your crew from failing?
Test Track: An exhilarating ride that parallels to a short roller-coaster with different characteristics. Be educated in the science of keeping cars safe from dangerous daily encounters; find out what it takes to give a car the "O.K." on safety and get a seal of approval. Then be asked to participate in this endeavor first hand as a test dummy for a new build of car. Do you have what it takes to test drive this new model through walls and sharp turns. Experience speeds of up to 70 m.p.h. and narrowly escape the dangerous possibilities!
Soarin': Fly over some the United States most aw inspiring land-marks while hanging from a glider! With this new concept Disney has given you the feeling of actually flying by glider across large sums of land. Utilizing fans to create the feeling of free flying and a 180 degree Imax dome located under you this encounter cannot be described only experienced! Come begin your journey across the U.S.A. and get Soarin!
Epcot's World Showcase is home to an array of pavilions each with it's own specified country. Located around the center of a lake at Epcot these pavilions are built to accommodate the architectural style and culture of each country. Each pavilion comes equipped it's own set of dining opportunities, souvenir shops, museums, cultural experiences, cultural shows and some even come with rides! The countries that have pavilions in Epcot are; Morocco, France, Mexico, Norway, China, Germany, Italy, America, Japan, the United Kingdom and Canada.
Norway: Here you can venture inside a Stave church; a massive pyramid like structure with stairs leading to the top. Inside you will find a large shopping area for Norway souvenirs, where you can buy authentic Norwegian items and arts. Further inside you will find a large area overlooking a marsh land forest, here is the dining area and the Maelstrom ride. Eat great Norwegian food here in this culturally correct dining area or ride through a forest on a boat and witness some of Norway's oldest mythology of Vikings and Trolls and their war for the land!
Mexico: See-able from afar this country's icon structure representing their architecture is a Mesoamerican Pyramid, a massive structure supporting several gardens as it veers it's way into the sky. Upon entering you will see some of Mexico's native artwork, from images to carved statues this area holds a vast amount of culture. Once inside you will find a market style shopping area. With wooden stalls and colorful shop owners you can browse through these Mexican souvenirs before dining in the large room presented before you. Here there are wooden tables and seats and at the far side of the room is a massive volcano and pyramid depicting Mexico's past history.
Japan: Possibly the most architecturally astonishing pavilion in the World Showcase this area is home to several large structures that are perfect for family pictures. Overlooking the center of the lake Japan's buildings form a small courtyard that create a relaxing subtle feeling. Sporting bamboo trees and a fountain full of fish the dining area is located inside and out for convenience. Japan has daily shows where actors in Japanese attire come out of one of the large structures and perform a series of drum style often practiced in Japanese culture!
China: Here you can eat a small but delicate restaurant called the "Nine Dragons," which sell authentic Chinese meals for your delight! China has a vibrant display of colorful architecture as well as a replication of a a temple know as the "Temple of Heaven." Inside the temple is a daily showing of a 360 degree movie know as the "Reflections of China," bring you the great cultural experience of China in an entirely new way! With a full pond and walk over bridge China is known for its courtyard shows and demonstrations. Sporting an entire team of acrobatics China has daily shows of stunts and performances of there beautiful culture!
Germany: Built architecturally to look like a common German town, each building represents a different era of German history, from the farm life to the modern day cities. The town comes fully equipped with a clock tower and a a statue of St. George and the Dragon! Located in the buildings are shops selling German souvenirs and in the back is a small secluded restaurant selling traditional German meals.
Italy: Here the architecture is built to resemble Roman and Venetian structures as well as a replication of the St. Marks bell tower. Inside is the traditional Italian buildings and souvenir shops for your convenience. Inside the plaza Italy hosts daily shows of music and clowns for your enjoyment. Here you can find Tutto Italia Ristorante where they sell authentic full course Italian meals for your enjoyment!
Canada: Unlike the other countries Canada's design and theme is the Canadian outdoors. Here you will find massive totem poles, pools, a waterfall and gardens. Here you can find a store decorated with paintings and totem poles selling Canadian merchandise and souvenirs. Located deeper in the area is a steakhouse for some Canadian style grilled cooking.
United Kingdom: The architectural design of the United Kingdom country in Epcot is built to look primarily like a typical British village. Here you can find a pub that sells ale and beer as well a small restaurant that sells fish and chips! Inside the area are an array of gardens and shops selling British souvenirs and merchandise.
France: Here you can imagine your actually in Paris, with the buildings positioned into a beautiful back set you can even see the Eiffel Tower behind the buildings peering into the distance. Here you can find shops selling souvenirs and French merchandise. Holding the largest array of dining options France has three different dining areas each serving their own unique set of dinner opportunities. Hosting a panoramic movie through out the day called Impressions de France you will step into the French culture in a whole new way.
Morocco: Unlike the other zones created by Disney this is the only country that the government of its specified origin helped aid in the creation. The Moroccan government directly help build this area to look like a tradition Morocco city! Here you can browse through art and history galleries to see some of Moroccan culture depicted through images and artifacts. Located here are dining areas serving authentic Moroccan food and shops selling merchandise and Moroccan souvenirs.