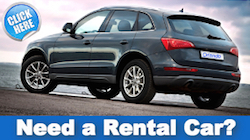 Thrifty
As a major player in the car rental industry,  Thrifty offers transportation services for both leisure and business customers. Operating one of the largest networks of 1,000 locations in nearly 70 countries, Thrifty is one of the largest corporately owned brands in the travel business.  With 40% of their Eco-friendly fleet rated at 40 mpg , Thrifty increasing meets customer demand for economical vehicles. While maintaining  a major presence in both airport and city locations, Thrifty makes booking a late-model vehicle easy for customers. Make sure to book your next rental car with Thrifty Car Rental Coupons.
There are 300 locations all across the US which makes the pick-up of your rental car as painless as possible. A great feature about the Thrifty company is they can quote your next reservation with the best rates, guaranteed. If you happen to find a Thrifty rental rate cheaper than Thrifty.com, not only will Thrifty match it but give extra 10% off on top of that rate. Thrifty also offers 11 different categories of cars to choose from and is one of the few companies that include pick-up trucks in their rental arsenal.
Dollar
Boasting a large fleet of quality late-model, Dollar is a name to be reckoned with in one of the most competitive industries in the rental car business.  With today's fast paced lifestyle, Dollar's online rental reservation center makes booking a family vacation easier than ever. Offering the lowest rates in the market, Dollar offers state-of-the-art Microsoft application to help customers make changes to their car rental bookings.  Check out some of the advantages of joining Dollar Express including Corporate Programs for Express members, free days with rental rewards, shorter lines at the counter and membership is free.
For over 30 years, Dollar rental car has provided vacationers with 5 star customer service in addition to their efficient vehicles. Dollar offers customers some of the newest model cars including the Chrysler 300, the Dodge Charger, and the Chrysler Pacifica. Dollar has 300 locations all across the US which offer pick-ups at almost all major airports. Capitalize on special deals with Dollar rental such as receiving 10% off using your American Express credit card and other deals when you travel to New York or Hawaii, and earn frequent flyer miles with your credit card on your next car rental. Set your reservation now with Dollar Car Rental Codes to get some of the best rates in the market.
Budget
Budget Rental Car Coupons, a subsidiary of the Avis company, is equipped with close to 1,900 worldwide locations in Africa, Asia, Canada, and the Caribbean. There are also locations in Central America, Europe, Mexico, the Middle East, and South America. Upon booking your reservation choose from a variety of car sizes in addition to SUV, specialty van's, and moving trucks. Budget rental has been in business since 1958 and has been providing customers with quality customer service and quality vehicles for over 50 years, so book now with Budget.
Avis
Avis is the largest rental car organization. After acquiring Budget rental and it's 1,900 international locations the Avis Budget group has a total of 4,400 pick-up locations to choose from all across the world. customer loyalty, trusted business, the best rates, and quality cars is what brought the Avis where is it today. With over 15 millions transactions handled annually, there is nothing that can go wrong booking your next reservation with the Avis Rental Car Coupons.
Alamo
Alamo is one of the largest rental car companies in world. One of the best benefits of booking with Alamo is the last minute travel specials, where you can pick-up your rental car just one hour after setting your reservation. In addition to the great customer service enjoy a variety of rental car types which guarantees a perfect car for your every need. Alamo rental also has about 1,000 local, regional, and international locations making the pick-up of your rental almost as easy as setting your reservation. Don't hesitate and book now with Alamo Rental Car Deals.
Enterprise
Operating an broad network of nearly seven thousand offices in five countries, Enterprise has a vehicle for every occasion and need. In addition to great customer service, Enterprise has up to eight classes of vehicle for all of your occasions. Check out the Standard car which offers Pontiac G6, Dodge Stratus or a similar version, economy vehicles like Chevy Aveo or similar for economic trips, or a luxury class such as Cadillac DTS, Lincoln Towncar or similar just to pamper yourself. Make sure that you use Discount Enterprise car rentals for all of your vacation travel needs.