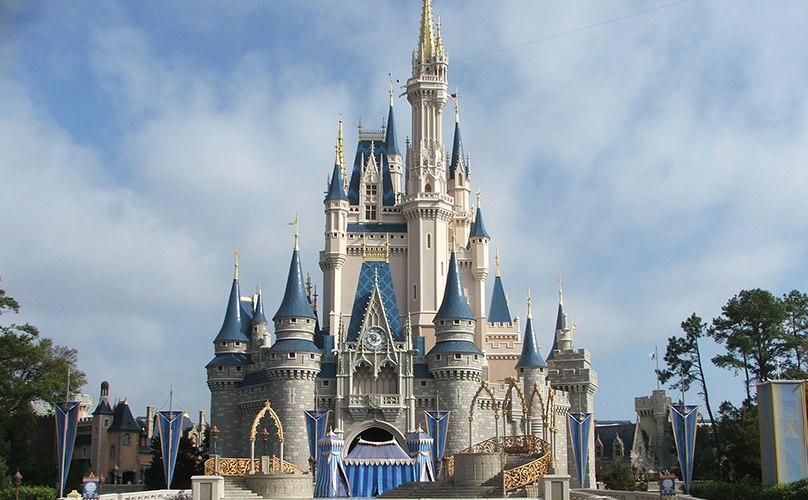 Welcome to Magic Kingdom, Walt Disney World Resorts first theme park and icon. Housing several different areas each with their own unique set of rides Magic Kingdom tends to be the first choice of theme parks for any tourist. These individual areas or zones are Main Street, U.S.A., Adventureland, Frontierland, Liberty Square, Fantasyland, Tomorrowland Mickey's Toontown Fair. The theme park us currently the most visited theme park in the world; having over 17 million visitors in the year 2008 the theme park is by far a fan favorite. Known mostly for its large castle belonging to Cinderella in the center of the theme park, Magic Kingdom boasts a Disney favorite by advertising the Disney classics such as, Winnie the Pooh, Cinderella, Peter Pan, Beauty and the Beast, Snow White and many, many more!
Located directly after the entrance to the theme park Main Street is the first thing you will pass through. Although Main Street does not host a variety of rides, it is the primary shopping center for theme park souvenirs. At night, and sometimes during the day, the street is cleared for parades and demonstrations; the shows vary depending on time of year and holiday. Often times this is where you will find Disney characters in costume, who will gladly take pictures with the kids and play out their characters!
Decorations: The street uses an early 1900s theme with beautifully architect-ed buildings and vibrant colors. The zone is constantly re-decorated depending on the seasons and holidays of the year. Chances are, if you visit it twice it will have changed!
Entertainment: Main Street is constantly patrolled by Disney characters in costume. Its random as to which characters will be on the street at which times, but you can often find them playing with children and making photo appearances with the guests.
This area of the theme park is built to represent the exploration of the young mind. With rides and scenery that represent the jungle and rain forest the area takes on a very exotic feeling. Most of the shops and experiences in the area are built to look foreign or built in a hurry. This area holds some of the earliest of the Disney Park rides and are built to support the theme.
Pirates of the Caribbean: Come join this bustling crew of pirates as they search to discover their riches. But be weary because there is determination to go to great lengths to get what a pirate wants! Journey into warfare and through dangerous caves and even see living skeletons!
The Swiss Family Tree House: This massive tree is filled with exotic accommodations for a small family. Built to look like a paradise you get to explore the Swiss Family Robinson's tree house and see what they built and the ingenious inventions that kept them alive while alone on the island!
Go wild in the Wild, Wild West! This area of the theme park exhibits a theme of the great frontier. From Cowboys to Indians this dessert style adventure is filled with all the dust and cactus that you can fathom! Red rocks and old taverns bring the are to life in this dirt dry land of entertainment!
Big Thunder Mountain Railroad: Pioneer the great west inside this state of the art steam engine, making the journey to and from The West a trip of ease. Be weary that the early train tracks were built for speed and not comfort, getting to and from your destination could be a wild ride!
Splash Mountain: Join this motley crew on a log flume through the mountains and down calm rivers. Unfortunately you end up speeding down rough rapids and plummeting down a waterfall in this water filled adventure that will leave you soaked in entertainment.
Welcome to colonial America, structures that replicate the time and even a Liberty Bell and Buy Discount Tickets Now! Liberty Tree are featured in this themed area! Built to fit the era this zone hosts a variety of colonial period actors and buildings. Experience the Hall of Presidents and see our nations grand history, or take a walk up the hill into the mansion that some believe to still be haunted!
Hall of Presidents: One of the most educational shows on the Disney lot this attraction seems to keep kids and adults fully entranced while presenting our nations history in a fun filled way. Using animatronics to replicate all our presidents it is not uncommon for children to think the characters are real.
Haunted Mansion: Although this particular ride seems like a scare for the little ones, its actually a fun ride for everyone. While most of it takes place in the dark you ride through the mansion home to 999 ghosts, ghouls and other haunted creatures. However Disney has taken several measures to make sure the ride is not a horror house, it is however "chilling."
Deep in the heart of Disney's Magic Kingdom, lies a legendary world long forgotten called Fantasyland. Ancient legends describe a place where mermaids sing, beautiful princesses tell tales, hideous beasts speak and flying elephants abound.
Enchanted Forest: Be immersed in the classic Disney films where you'll discover some of your favorite characters in the Enchanted Forest. Join Ariel for a wild Under-The-Sea journey of the Little Mermaid Grotto. Enter prince Eric's castle, board a giant clamshell or rock out on this new musical attraction.
Be part of a storybook tale journey into the deep forest and witness the tears of the beautiful Belle's change a hideous beast into a handsome prince. Venture through lush landscapes, discover roaring waterfalls, and be enchanted by royal castles along the way.
Storybook Circus: Step right up. Storybook Circus transports guests to another era in time where colorful big-top tents attracted thousands from every walk of life. Be astonished by the animated feature Dumbo including stunts, majestic animals and spectacular entertainment. View attractions including The Barnstormer, Dumbo The Flying Elephant, and Fantasyland Station.
Seven Dwarfs Mine Train: Embark merry but musical journey on the Seven Dwarfs Mine Train family coaster, swerving, twisting, turning back, in and out of the mine with Doc Grumpy, Happy sleeping and all the gang to the Enchanted Forest in Magic Kingdom.
It's a Small World: Journey around the world in a boat and visit other countries and their "small" people. Each country has their culturally correct children enjoying their daily life. While playing music that pertains to the countries origin at every stop you'll be singing "It's a small world after all." for the rest of the day!
Take a deep breath before entering this area of the park! Building blocks to the future of space exploration and technology seem to be presented in every comical Disney way. This area is home to the future and Walt Disney's interpretation of earths sciences.
Space Mountain: One of the most recognized attractions inside Tomorrowland is space mountain, and indoor roller-coaster in the dark! While riding this roller coaster in the pitch black projectors shoot stars on the dome overhead, giving the illusion your in out space!
Buzz Lightyear's Astro Blasters: Journey through space to help Buzz defend the galaxy from the evil enemy Zerg. Hop in a space ship and fire at targets located on the enemy ships to score points. Every time you experience this ride you will see something new! Face off against friends to see who can score the highest!
Disney 2 Day Adult Magic Your Way Ages: 10 and up Choice of Magic Kingdom, Epcot, Hollywood Studios, & Animal Kingdom. Note:1 and 2 Day Disney tickets are cheaper at the gate, but lines are up to 90 minutes long.  Upgrade Options  Park Hopper® Adding...