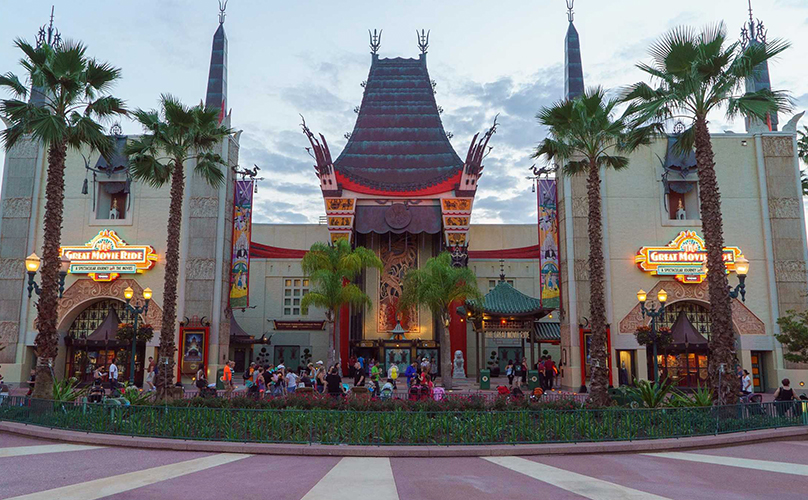 Hollywood Studios Park Sections
Hollywood Boulevard: Located at the entrance to the park, this area is filled with shops and concessions for your convenience. Shop for great movie souvenirs, Disney pins, hats and more. Also located here is one of Hollywood Studios oldest and most popular rides, the "Great Movie Ride."
Echo Lake: Created to look much like the crazy California style buildings this are of the park is home to Star Wars themes and the Indiana Jones show. This area of the park also forms one of the massive ears that shapes the theme park to look like Mickey.
Sunset Boulevard: Focusing on stage life, this area of the theme park brings a unique set of rides and experiences that cannot necessarily be categorized into a single theme. Supporting many of the "heavier" rides this area of the theme park is built primarily for teenagers and older.
Pixar Place: Built to look like the Pixar Animation Studios this area of the theme park is dedicated to Pixar's role in the Disney film making process.
Grand Avenue: Structurally built to to look like a New York city street this area used to be closed off to pedestrians. Now open for you to walk through you can see much of the back lots and behind the city equipment. This area is used for Muppet Vision 3D.
Animation Courtyard: With all the animated movies Disney has made it is only natural to dedicate an area of the theme park to their works. From as early as the 1940's Disney has created an abundance of creative flicks for all ages, now you get to witness how they were made, and enjoy a show or two while your at it.
Indiana Jones Epic Stunt Spectacular: Follow Indiana Jones through a series of amazing stunts, gun fire and explosions as they do a live show right in front of your eyes! After each skit they stop the scene and reset everything to demonstrate how they do each individual stunt.
Star Tours-The Adventures Continue: Journey into the Star Wars galaxy and venture into space on a Star Tours ship for a simple tour of the star systems. But when a your clumsy droid pilot accidentally stumbles into the battle on the Death-Star you end up helping the rebel alliance and Luke Skywalker raid the narrow trench leading to Death-Star's destruction.
Playhouse Disney: Come join the crew of Playhouse Disney live onstage here to interact with your kids! In this air conditioned room you are asked to sit on the floor so everyone can see as the costumed characters perform for you!
Toy Story Midway Mania!: A fun filled interactive 3D experience where you get into a cart and pass through a variety of classic carnival games. Each game has it's own Toy Story character operating and narrating your adventure.
Tower of Terror: Enter the Twililight Zone and go where few have tread! Enter the cart and be lifted nearly 200 feet into the air. Witness a strange phenomenon before you quickly plummet straight down and then back up and then back down several times over!
Rock n' Rollercoaster: Join Aerosmith as they prepare for their upcoming concert, and in a strange twists of events they have invited you along for the ride. Ride this indoor roller coaster through the dark while jamming out to some of Aerosmith's top hits!