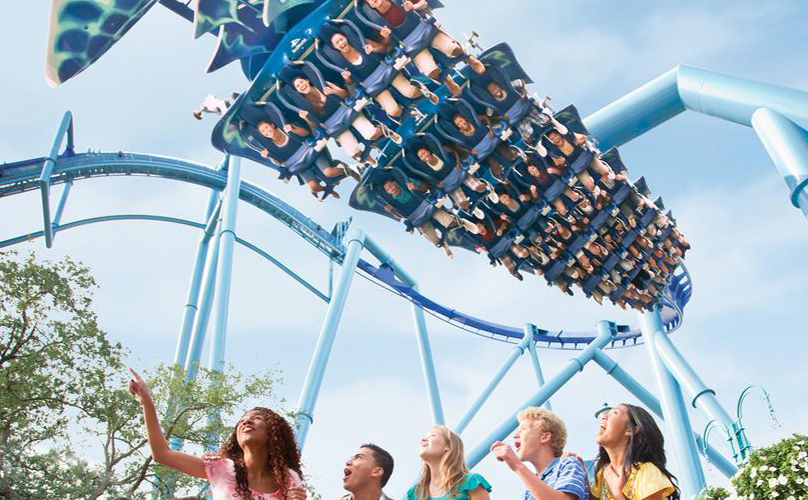 SeaWorld is one of the most reputable theme parks in the Central Florida area. With its unique theme and very special shows the theme park has quickly grown to be loved by tourists and is definitely a fan favorite. Housing a variety of wildlife and an abundance of endangered species the theme park is often visited to see animals rarely seen and to experience the creative rides the park offers. While keeping the animals healthy and safe the theme park showcases them via rides, attractions and viewings. You can find many of the animals just relaxing in recreated environments. Several of the animals such as the Killer Whale, Bottle-Nosed Dolphin, Sea Lions and more have their very own show that fits to their unique abilities and life-styles.
MAKO
With a length of 4760 feet, speed up to 73 mph, height of 200 feet and specialization in airtime, MAKO is Orlando's first true hypercoaster.
ANTARCTICA
Be transported to the Empire of the Penguin where temperatures drop to -129 degrees and survival is for those who can adapt to the earth's harshest environment.
TURTLE TREK
Follow the life journey of a brave little sea turtle in a hyper-realistic, 360 degree, High Definition, 3D dome theater! It is an immersive experience like no other!
MANTA
Spin, fly and sore on this massive rollercoaster. Using the unique hanging design the roller coaster emits the feeling that your actually strapped to the bottom of an actual Manta-Ray!
KRAKEN
This monster of all roller coasters is longer, faster, and spirals higher than any coaster in Orlando. One of the unique attributes of the Kraken is that it takes you underground where you meet face to face with the Kraken, but only for a brief moment!
JOURNEY TO ATLANTIS
Follow a mermaid to the lost city of Atlantis, in these majestic ruins you get to travel through hidden archways and see massive treasures. But suddenly the ride takes a twist and you find yourself struggling to get out of the ruins!
SHAMU EXPRESS
A family roller coaster where young children and adults can enjoy their first coaster ride together.
DOLPHIN COVE
Touch and feed playful Atlantic bottlenose dolphins, an unforgettable experience at any age. Reach over the walls into their swim pool and touch their noses or witness them jump in play at arms-length!
KEY WEST
Five lush acres come to life with tropical sights, sounds, and flavors.
ONE OCEAN
Awaken a spirit of wonder and curiosity with our most sensational and visually stunning Shamu show ever.
BLUE HORIZONS
A vivid theatrical daydream about the mystical place where sea meets sky.
SEA LION HIGH
Join Clyde, Seamore, walruses and otters comedy team on a high school themed adventure!